£100,000 Racelogic Gift to Sports Campus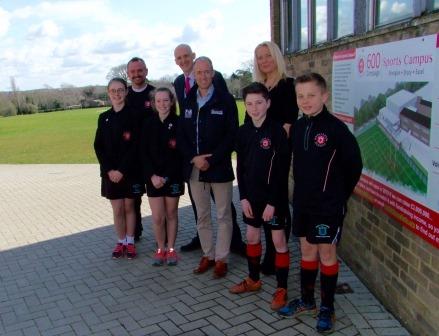 All smiles at The Royal Latin as Julian Thomas announces his gift!
Racelogic MD Backs Sports Campus Project
Monday 26th March 2018
A Buckingham entrepreneur has amazed his old school by making a major contribution to their fundraising campaign – for the second time.
Julian Thomas, Managing Director of Racelogic, is donating £100,000 to The Royal Latin School's 600 Campaign, to help create a £3million Sports Campus at the school. Julian – who left the school after A Levels in 1986 – had also previously sponsored the Innovation Lab in the school's flagship Discovery Centre.
"My business is all about measuring and improving performance" said Julian. "I spent some time looking at the links between physical activity and human performance, and was staggered by the volume of evidence out there to show that even a small amount of exercise can positively impact on cognitive ability. That interests me both as an entrepreneur and as a racing driver, and has convinced me that we must do everything we can to encourage young people to be more active in order to reach their full potential. The Sports Campus is an innovative way to achieve this and I'm delighted to invest once again in the school's ambitious plans."
The Sports Campus – including a new Sports Performance Centre and all weather pitch – aims to transform sporting facilities at the school, and will be particularly focused on encouraging and supporting young people and community groups to be more active. Julian will sponsor the Sports Lab within the new building, which will help people to use technology to monitor and analyse their activity levels.
Headteacher David Hudson commented, "We are absolutely thrilled, and so grateful that Julian has stepped forward to support our 600 Campaign  for a second time. The Sports Campus will help us to not only help more people to be more active, but will also help young people understand the importance of balancing their studies with activities they enjoy.  This is so important in supporting their overall wellbeing. Technology will play an important role in the new facilities, and having Julian's support and expertise will mean we can deliver some really exciting initiatives -not only for our own students, but also for the local community."
If enough funding can be found in time, the school hopes to begin building the Sports Campus at the end of this year, and to open the new facilities in early 2019. Just as with the Discovery Centre, the school will ensure that the community benefits from the new facilities through outreach work with primary schools and out of hours use of facilities by local sports groups.
"Giving back to my old school gives me great pleasure" said Julian. "I believe that if I can make a difference, then I should. It's an amazing feeling."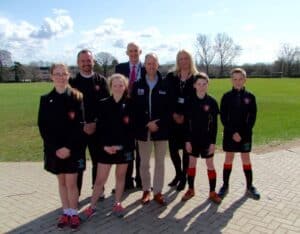 L-R: Head of PE Ian Gould, Headteacher David Hudson, Julian Thomas, Director of Development Jo Ballantine celebrate with Year 7 students