Don your Wetsuit and Get Swimming!
If you are a keen swimmer, we have an excellent event you could take part in to help raise money for the Sports Campus!
SWIM SERPENTINE, HYDE PARK, 21ST SEPTEMBER 2019
We have secured 10 charity places in Swim Serpentine – a fantastic 1/2 mile or 1 mile swimming event around the famous Serpentine Lake in Hyde Park, London. Come along with family and/or friends and take part in this amazing swimming festival in the heart of London – you won't regret it!
Places are available for everyone aged 12+. 
of the success story. 
This is a great place to start!
If you would like to find out more, see the Swim Serpentine web pages or contact LAmodio@royallatin.org for registration information and to sign you up in the registration portal. We will support you with a training plan, and publicity for your fundraising. The fundraising commitment is £130 which includes £30 entry plus £100 towards the Sports Campus fundraising target. 
Our Sports Campus is going to start being built in Autumn 2019 but we are still £700,000 away from being able to pay the final bill. We are SO PROUD that the funds we have raised so far, we have raised independently. This is a whole-school effort, and we hope you can be part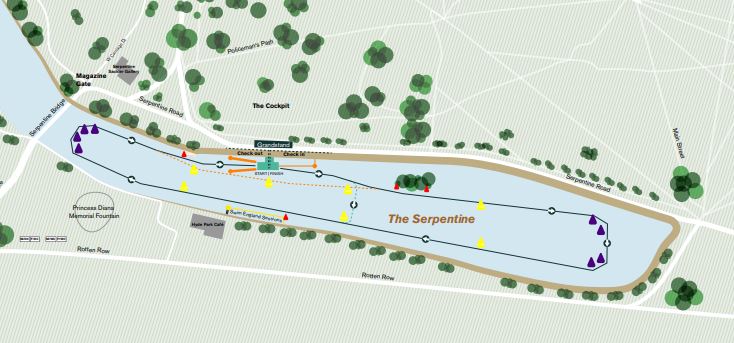 The routes:
Half-Mile Swim: Taking in half a lap of the Serpentine, there is plenty of time to swim this distance at your leisure with a friend, race your mum or dad or just to try out an open water swimming event with an achievable but for some still challenging swim.
One-Mile Swim: A classic distance in the world of open water swimming events. This swim takes place on the same course as the London 2012 Marathon Swimming Olympic event, with one full lap around the Serpentine making up the one-mile swim. This is the most popular of all the swim distances at Swim Serpentine with swimmers taking anything from 20 minutes through to one hour to complete the swim.