NEW DATE CONFIRMED: 10TH JULY 2021
We're inviting our brilliant RLS community of parents, staff and alumni to join together to tackle the beautiful 25 mile Yorkshire 3 Peaks trek on 10th July 2021. Could it be the perfect challenge for you this year? Places in the team are limited and we want to get everyone signed up as soon as possible so we can start training and getting fundraising plans in place. 
We're delighted to be partnering with Global Adventure Challenges, a specialist trek organiser, and the trek will operate under strict Covid-safe conditions, according to whatever the government guidelines may be at that time.
The Yorkshire 3 Peaks is a demanding but rewarding trekking challenge, which takes in the summits of the three highest peaks of the Yorkshire Dales: Peny-ghent (694m/2,276 ft), Whernside (736m/2,415 ft) and Ingleborough (723m/2,372 ft) all in one circular route starting and ending in Horton-in-Ribblesdale. The challenge will be to complete the 25 miles trek within 12 hours, as then we'll be able to join the official "Three Peaks of Yorkshire Club", but of course, we can also enjoy this stunning challenge at our own pace.
This challenge includes over 1,700m of ascent, passing through the breathtaking and ever changing landscape of the Yorkshire Dales National Park. Mountain guides, routes, refreshments, support vehicles and first aid will all be on hand; we'll also be introducing a few special guests into the team to keep us all motivated and entertained along the way.
Our team members have been telling us about their reasons for want to get involved – to inspire you to join them!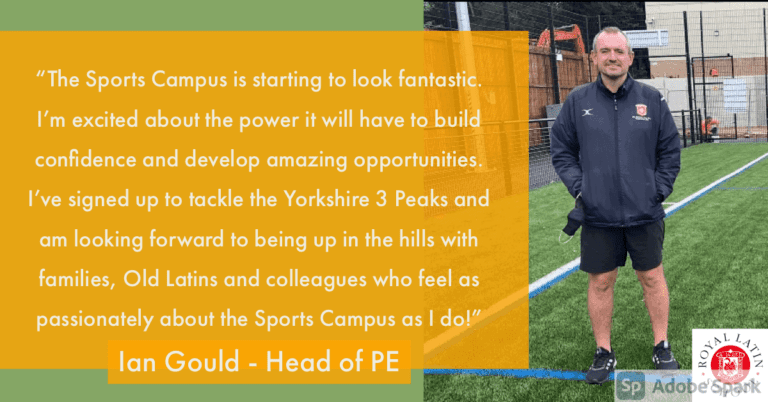 Providing you have a reasonable level of fitness and are willing to commit to trying to raise a minimum £500 in sponsorship for the Sports Campus, the challenge is open to all parents, staff and alumni. Students aged 14 and over on 10th July can also take part, must be accompanied 1:1 by a parent/guardian who is also participating (and each must raise the minimum sponsorship).
To find out more, see below. If you have any questions, or to register your place, please contact Jo Ballantine at jballantine@royallatin.org
What if Covid-restrictions mean the challenge can't go ahead nearer the time?
With the new date confirmed, we are really optimistic that the event will definitely go ahead. If the situation changes and the event does need to be cancelled or you need to withdraw for Covid-related reasons, we can refund your entry fee – or ideally, we can just arrange for you to complete the trek later in the year. Please speak to us if you have any concerns.