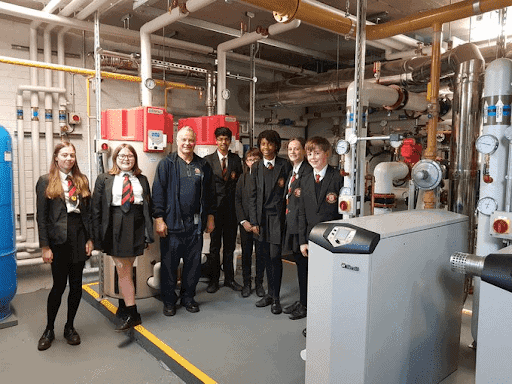 Written by the Green Touch Elective Team: Olivia, Freyja, Ellie, Lara , Jacob, Amy, Cameron, Viraj , Ethan and Sophie 
RLS has taken many leaps forward this year in their fight for sustainability, from using cans instead of plastic bottles in the canteen to transforming our heating system so it works more efficiently than ever. In this article, we hope to better inform you on our actions over this past year and our plans for the future.  Recently, we visited both the extensive new heating system and the roof of the Discovery Centre to gain a better understanding of the steps taken to make our buildings more sustainable. Head caretaker Mr Stafford showed us the impressive new heating and water system, and explained how this new, state-of-the-art system is saving both the environment and money. We learnt how the new thermostats in each main-block room are easily adjustable, meaning temperature can easily be changed to requirement in individual rooms. We then went to the DC roof to see the impressive collection of solar panels, solar lights and air source heat pumps there and better understand how they power the Discovery Centre to be our most modern and sustainable building.
One major achievement was working closely with Innovate to provide a much more sustainable canteen. These changes can now be readily seen in both the main school canteen and in the Sixth Form Cafe. We will be working with them in the future to ensure that the canteen is as eco-friendly as possible. It really impressed us how passionate they were to answer our questions and make positive changes.
In the past few months, the environmental elective group have researched a variety of trees that are due to be planted soon. Each person from the group researched the cost of the saplings, what was needed to help encourage the saplings to grow and possible places we could buy the saplings from. After preparing a slide that displayed all this information clearly, we had a meeting with Mr Hudson to help put our tree planting plan into action. We then later made the decision that each House will look after two saplings each and it will be their responsibility to help the saplings grow. The variety of saplings to be planted include: Magnolia 'Star Wars', Pinus Nigra, Sequoia Tree, Amelanchier Arborea 'Robyn Hill', Abies Nordmanniana, Silver Birches and Ginkgo Biloba. The money for these trees will be funded by the money made from the Green Touch Mufti Day which we organised. One of our goals for the future is to achieve a Green Flag Award for the school. We have already done some groundwork and are well on our way to completing it.