The general consensus is that time spent at the Latin is something that stays with you for life – hopefully in a good way! Old Latins will always be part of the school community, are welcome to visit anytime, and are encouraged to share skills and experiences with today's students. Old Latins are playing a vital role in the 600 Campaign too, and we are incredibly grateful to former pupils for volunteering, supporting fundraising events and donating.
You can help the 600 Campaign in a number of simple ways.
Share our vision by following us @rls600 on Facebook and Twitter and sharing our progress
Volunteer your time or skills to help the campaign effort
Fundraise! Organise an event, take part in a sponsored challenge, encourage your family or employer to get involved
Introduce RLS to people you think might be able to help and think about how the organisations you are part of might get involved
Think about how the organisations you are part of might get involved
Donate by visiting our Donations page to Buy a Brick, Sponsor a Hero, become a Sports Campus Sponsor or just make a one-off gift. In addition, you could consider becoming one of the 100 founding members of Latin Inspires, a community of Old Latins making monthly gifts to the 600 Campaign between now and 2023.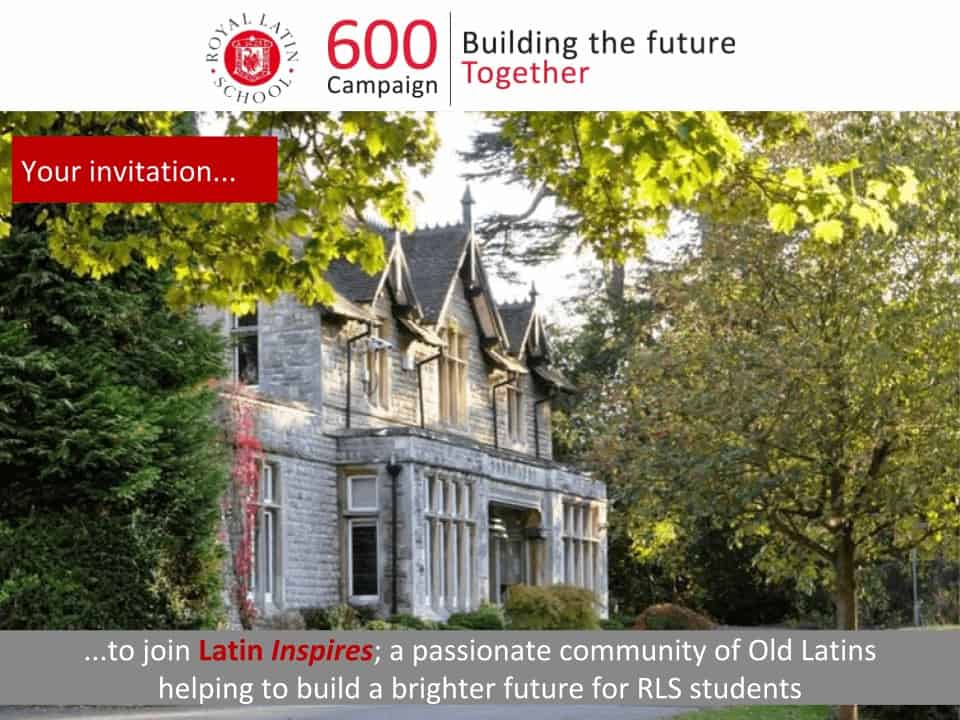 If you would like any further information of want to discuss how you might like to get involved, please don't hesitate to Contact Us – we'd love to hear from you!
Help us to reach more Old Latins
Our records are by no means complete and we rely heavily on Old Latins putting us in touch with fellow alumni. So please do get in contact with your former classmates and encourage them to contact us or join you in paying us a visit – and if you haven't already, then do sign up for our alumni magazine, Latin Life, by emailing latinlife@royallatin.org, to keep up to speed with 600 Campaign progress and other alumni news.