IT Girls Allowed!
Written by: Amelia Hopewell (Year 8)
Edited by: Ayra Ali (Year 12)
At the end of November, fifteen students, myself included, went to the one-day event, expertly run by Barclays in Northampton.
The day was divided into three activities that revealed many different aspects of banking, from online security to the role of mortgage advisors. We didn't realise quite how exciting a career in finance can be!  The activities made us evaluate our strengths and weaknesses, and focus on teamwork and collaboration.
First up – cryptography! We cracked codes using methods such as the Caesar Cypher. To do this effectively, we had to work in teams and were suitably challenged by having to work collaboratively with students from other schools too.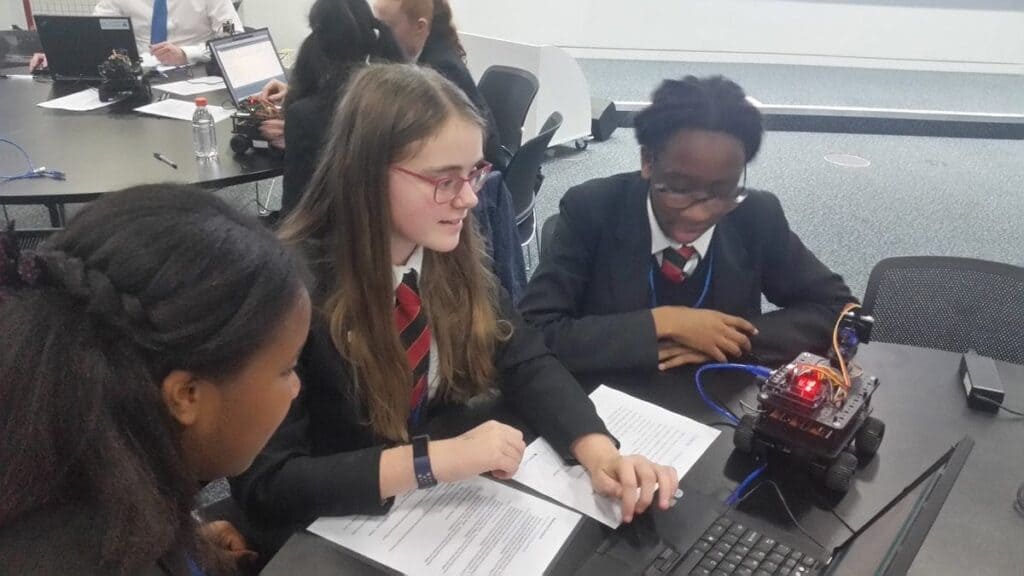 Next up, programming and testing robots. We had to programme the robots we were given to follow a set route in the fastest time. This activity was really fun, and again, we had to work as a team.
Once we had finished lunch, we used our creative skills to come up with an idea for a new piece of technology to improve the lives of others around us. We were very enthusiastic about this activity because of the prizes on offer – one of which was a Kindle Fire! When this was announced, the levels of motivation crept up.
We found this day extremely interesting and learnt a lot about what careers are available to us and the importance of all the roles within a bank. More importantly, it made us reflect upon what we would want to do as a career. Now we know a lot more about jobs in the banking sector, we will definitely consider these when we're older.  We were opened to the world of technology and its importance in society today, and recommend that students in the future go to Barclays to discover the same for themselves.
We found our school trip to Barclays thoroughly enjoyable.   We took up interesting challenges and were filled with lots of illuminating ideas about what we could be working on in the future and would like to say a big 'thank you' to Barclays for running this event!