100 years on we shall remember them: RLS commemorates its WWI dead
Friday 9th November 2018
Written by: Holly Fernandes (Year 8)
Photographs by: Lily Viner (Year 12)
Edited by: Alice Walder (Year 12)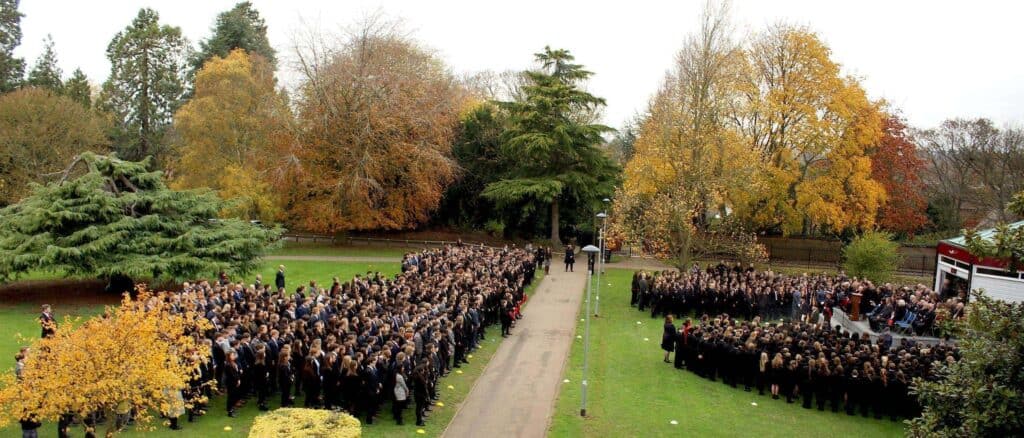 On Friday 9th November, The Royal Latin School gathered outside to commemorate Remembrance Day and pay our respects to all the soldiers who fought in both of the World Wars. This year was particularly unique as it marked 100 years since the end of the Great Wars.
Prior to Friday, a lot of time was given to prepare for the service. The History Department dedicated many hours to produce handmade poppies that we arranged in abundance around the school.This year, we made an effort to remember at least one individual involved in the war, whether that was a family member, someone local or someone that we admired. We then displayed their stories around the department for everyone to read. This meant that when the day came, everyone was thinking of at least one person during the service and ensured the remembrance was personal. The pupils also lightly embellished clear, perspex men that we placed around the school to serve as a subtle reminder of those who risked and lost their lives for us.
The service itself included a reading from the Deputy Head Boy and Girl, along with a rendition of the famous "In Flanders Field" poem by John McCrae. The cadettes, including some of our own Latin students, paraded with pride as a trumpet sounded; the rest of the school watched on in silence.
The service was truly touching and powerful. We were lucky to have veterans join us, and after the service, they were then able to join together to reminisce and exchange stories about their time serving their country.
So as another year has passed, the Royal Latin School remain eager to remember those who we  have lost and we will continue to do so with pride next year.